Solar Energy
Harness the power of the sun with the right photovoltaic power system for your needs.
Renewable & Clean Solar Energy
Design & Installation
BEI Construction takes solar projects further faster. Our team can help you plan, design, and install photovoltaic power systems in the Bay Area and beyond. From site evaluation and energy modeling to production analysis and construction, BEI delivers complete systems. Our expertise includes solar ground-mount systems, parking canopies, and single access trackers.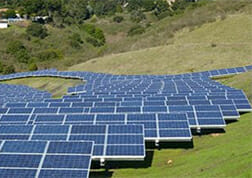 Photovoltaic power systems
Our team has installed more than 200 MW of solar capacity for a variety of public and private sector clients. Achieving your renewable energy goals can include ground mount systems, parking canopies, or other photovoltaic technology. Our teams has mastered the technical details, and we can help you choose and build the best system for your needs.
Design/build solar systems
Turn to the BEI team for a start-to-finishing approach to project delivery. We bring together all relevant engineering disciplines from the beginning of projects, setting you up for success. Energy modeling helps ensure you get the system and capacity you need. Our civil and electrical engineering specialists work to anticipate and avoid problems. Installation advances faster thanks to complete planning and our equipment expertise.
Solar with energy storage
Equipment costs and capacity for energy storage have seen dramatic recent improvements. Enhance the effectiveness of your investment in solar power by including today's advanced energy storage systems. We can help you include the right energy storage technology to make your solar power system a 24/7 solution.
"We've delivered 200 MW of solar energy capacity across the Bay Area and California. It's never been a better time to get on the path to sustainability with a photovoltaic power system."
–Mike Rantz, BEI Construction President
Your solar power construction partner
Step into the green energy future by installing a photovoltaic power system that meets your energy needs. Get started by talking to the BEI Construction team today.
Contact us
Representative Client List