Solar/PV Projects by BEI Construction
Acalanes Union High School District/SolarCity
Renewable Energy/Solar
Lafayette, CA
1.7 MW of solar in four schools

Completed the installation of PV (photovoltaic) and battery storage electrical systems. Electrical installation and underground construction. Schools include Las Lomas, Acalanes, Miramonte and Campolindo.
City of Palmdale
Design/Build, Solar 
Palmdale, CA
EPC for City of Palmdale. Complete PV installations at 8 sites for the City of Palmdale, California. Mixed ground-mount and canopy-mount arrays. One megawatt total. Turnkey services and ongoing O&M.
City of Palmdale/Keppel United School District
Renewable Energy/Solar
City of Palmdale and Keppel USD
2 MW
EPC, 12 sites, design/build, underground construction, DSA, ADA.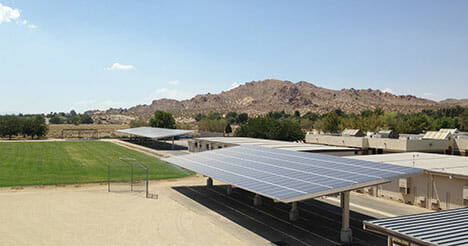 Constellation Energy
Renewable Energy/Operations and Maintenance
California statewide
Testing and maintenance on photovoltaic solar installations throughout the state.
Lafayette BART/SolarCity
Renewable Energy/Solar
Lafayette, CA
1.1 MW of solar

Performed AC and DC electrical work. Electrical installation, electrical and underground construction.
Merritt College
Renewable Energy/Solar
Oakland, CA 2010
1.2 MW
Electrical and underground construction for ground- and canopy-mounted arrays. California Division of the State Architect (DSA).
Solar City/Intel Folsom
Renewable Energy/Solar
6 MW solar and 1 MW/2 MWh battery
Electrical construction including battery plant, solar and parking canopies.
Tesla/Gap
Renewable Energy/Solar
1 MW/2MWh
Battery plant. Design/build.