Damon Coney (photo below) didn't start out aiming for a career in information and communications technology. Originally from Brooklyn, he enlisted in the Marines after high school, spent several years in the military, moved on to study business administration, and then worked for over a decade in the fields of security and telecommunications. Damon passed his RCDD certification in October, 2016. He was a student of BEI Construction's Dave Sanders.
We see students from all around the country and many different backgrounds in the BICSI certification training courses we offer. They truly inspire us as much as we inspire them — it's a privilege to be able to help people improve their skills, develop their talents, and boost their careers. We asked one of our past students, Damon Coney, to tell us a bit about himself and his experience taking our Registered Communications Distribution Designer (RCDD) certification training in Southern California. Damon's class was taught by Dave Sanders, BEI's Vice President of Technical Solutions, who is the instructor for all our BICSI training courses.
Q. How did you go from being a Marine Special Forces to a civilian telecommunications designer?
Damon: After I had a new baby, I was deployed for over a year and had to be away from my family. Because of that I did not want to continue my full-time career in the Marine Special Forces. Even though I loved what I did, the culture, and the travel opportunities, I missed my family. After I left the military, I worked in security and telecommunications. I came to Atlanta originally to go to school in the field of telecom engineering.
Q. Why did you choose Los Angeles for your certification class?
Damon: Initially I tried to study for the certification on my own for about six months. After I couldn't find any materials to help me learn this on my own, a friend recommended that I take Dave Sanders' RCDD class. So, I called Dave to talk with him about taking the class, and after the conversation I was hooked. Dave said that if this certification is something that I wanted, I could get it. Dave opened the door for me, he held a seat in the class and even helped me find lodging.
Q. What was the class like?
Damon: It was very supportive. Dave had us hold ourselves personably accountable for the success of the person next to us. He said to share what you learn, help each other and all get through this together. This methodology was similar to the Special Forces, depending on each other and the team spirit. It's a three-day process, and I came out with a 21-chapter manual that breaks down years of experience into what you need to know, in bite-sized pieces.
Q. How does it feel to have your RCDD credential?
Damon: I feel more confident with what I do now. While I'm working, I get in the zone and ten hours can go by quickly. The design work feels effortless.
Q. Would you like to say anything else?
Damon: Dave Sanders is a true instructor. He helped me after class and wanted me to succeed. He starts and ends each class with a mantra similar to what I've always believed. Dave says, "you have to want this, no matter what". Really, it's a small sacrifice for a lifetime career. Dave Sanders is the best person to have as an instructor … there is no one better.
Dave Sanders (photo below) is one of the only instructors in the world who teaches courses on all four of the BICSI certifications that he holds himself: RCDD, DCDC (Data Center Design Consultant), OSP (Outside Plant Construction Designer), and NTS (Network Technology Systems Designer). Although Dave has won many awards for his speaking and teaching, he is most proud of the fact that more than 80% of his students pass their BICSI exams, just like Damon Coney did.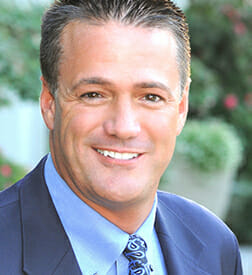 For more information on BICSI certifications, please visit the BICSI website.
bicsi.org